T3 T04E Turbocharger .50 A/R Compressor, .63A/R Turbine
This Turbo has Brand New Air Inlet Design for Better Air Flow and Spools Faster
T3 TO4E/T04E T Turbocharger A/R .50 Stage 3 Turbo Charger, Perfect for any 4-6 cylinder.
Mitsubishi Eclipse, Honda Civic, Prelude, Integra, Ford 2.3L Turbo Etc.  
Item(s) Specification:
- T3 Flange to Manifold
- 5 Bolt Hot Side Downpipe Flange
- .50 A/R Compressor
- .63 A/R Turbine
- 3" Inlet & 2" Outlet
- 1/8 NPT Oil Inlet
- 350 WHP Swaps
- 5~20 PSI Working Pressure
- Computer Balanced Individually  
Highlights:
- High Quality Built Product. Each Turbo is Individually Tested and Computer Balanced.
- BRAND NEW, Not Used, Not Remanufactured.
Item(s) Included: 1x T04E Turbocharger
Optional Turbo Downpipe Exhaust Flange 5 Bolt
- for T3 T04E Turbo Downpipe Exhaust Flange
- 2.5" Outlet
Optional Turbo Oil Feeding Line Kit Braided for T3 T4 T04E T04B
- Our Oil Feeding Flange has Restriction build in, Supplies proper Oil feeding to the turbo. Be Aware that other oil kit may just have a big hole and can blow Exhaust Sealing Easily.
Optional Manual Turbo Boost Controller
Optional T3 Turbo Manifold Flange
Optional Turbo Oil Return Line Kit AN10
- Two AN-10 Aluminum Fitting (One Straight, one 45deg)
- One AN-10 Weld on Steel Fitting (weld to oil pan)
- One 24 inch long Braid Oil Line
Optional Turbo Oil Drain Flange
- Billet Aluminum CNC Made, High Quality
- Push In OD 5/8", Fits 5/8" ID hose.
Optional 4AN Oil Feed Flange Adaptor
- Built in oil restrictor to Protect your turbo from high pressured oil feed
- Two Mounting Screw holes Centerline to Centerline is 1.5"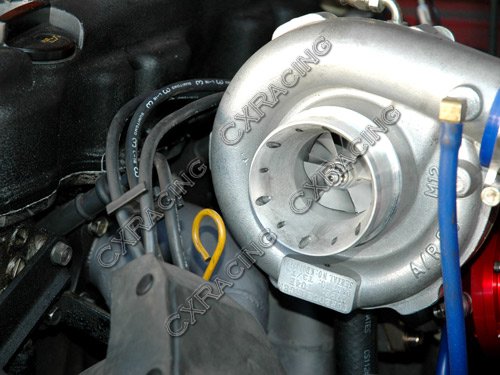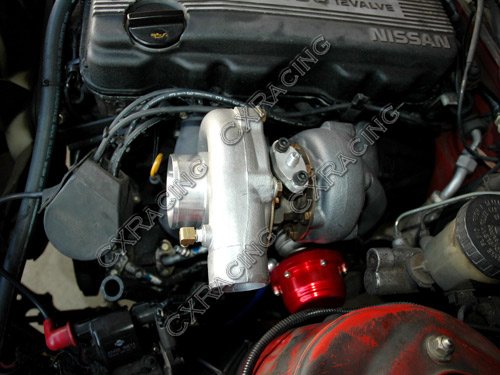 New 3" Air Inlet Design T3 T04E Turbo Charger , 50 AR Compressor, .63 AR Turbine, 5 Bolt Exhaust
Brand: CXRacing
Product Code: TRB-T04E-1
Availability: In Stock